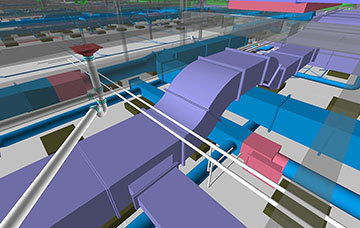 ECSI 360 can provide 3D Computer-Aided Design (3D CAD) and Building Information Modeling (BIM) construction to enhance our direct-client projects. Our 3D CAD and BIM processes are also available as standalone services to other contractors and engineers. Since our business model involves prefabrication of ductwork and piping systems from a multitude of manufacturers throughout the Mid-Atlantic region, we incorporate BIM principles into all our construction projects. This sourcing methodology requires flawless coordination. It results in production of the highest quality materials welded and prefabricated under controlled conditions, not out in the field.
Our management team and key personnel each average over 15 years of experience regarding integrated project coordination with other construction-related trades that also use computer-aided drafting services. With hundreds of completed projects in our portfolio, we are one of the most experienced companies in the Philadelphia/southern New Jersey/Delaware region regarding 3D CAD coordination.
ECSI 360 uses a wide variety of three-dimensional software packages: AutoCAD Fab Estimation, CAD MEP, Navisworks, and Revit. Our versatility in 3D CAD enables us to seamlessly manage engineering drawings and convert them to two-dimensional fabrication formats for direct input to our manufacturers' plasma machines. Combined use of 3D CAD software and BIM processes aligns ECSI 360's pre-construction design and planning with on-the-job performance. The many benefits to your organization are:
Reduced errors
Reduced coordination time
Enhanced clash detection
Real-time testing and pricing of design options
Reduced installation time
Increased manufacturing efficiency
Lower overhead costs
As a well-known BIM expert in the Mid-Atlantic region, ECSI 360 provides consulting services to engineering, construction management, architectural, and other contractor firms. Our design and installation knowledge allows us to be the connecting facilitator between companies lacking BIM capabilities and the engineering community. Conversely, we can help engineering firms assess their "constructability" and real-time, geographically specific costs (through integration of our 3D sketching software, estimating software, and extensive pricing database) to compete with confidence when bidding on projects.