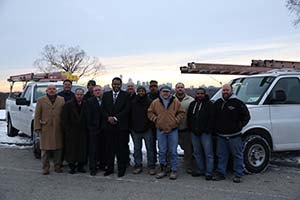 Environmental Construction Services, Inc. is an 8(a) Certified construction, HVAC, energy & facilities management firm based in the Philadelphia, Pennsylvania, area. We fulfill your construction needs through quality construction and service with a focus on safety, 3d modeling, asset management and life-cycle cost analysis.
ECSI 360 helps the federal government, building owners, contractors, and facilities managers like you design, build or retrofit, and maintain energy-efficient facilities within your specified budget. Our project managers, design engineers, and energy experts each average 20 years of construction experience.
Clients hire us to provide superior solutions for the design, construction, and maintenance of complex mechanical systems while achieving energy-saving goals. They stay or refer others to us because of our reputation for innovation and delivering high-quality construction on time and within budget. We understand that 1-2 years after a mechanical installation, you might not remember all the functionality of a complicated system. This is why we leave behind a set of 3D drawings as a high-definition visual for your reference.
The key to reducing your construction costs is our use of advanced Building Information Modeling (BIM) processes. Our CEO, Michael Brown, is a well-known energy "guru" and BIM consultant in the business community. BIM allows us to:
Eliminate construction errors and change orders through clash detection
Reduce shipping and handling costs
Provide just-in-time delivery of supplies to jobsites
Deliver real-time, accurate estimates of projects at any phase of construction
Perform complex installations faster and more accurately than many of our competitors
Manage facilities using a 3d proprietary software that integrates design with asset management software
Also, we've applied for a patent that could offer groundbreaking retrofit HVAC technology for both commercial and residential use. Based on our experience installing air handlers using Variable Frequency Drive fans in many of our retrofit HVAC systems, we recognized an energy-saving opportunity. By applying this technology to air distribution systems, our concept would regulate the HVAC when an area is unoccupied by people as well as integrate lighting and temperature control.
We encourage you to learn more about our Energy Management Services  and contact us  with any questions regarding your specific needs.