Environmental Construction Services Inc.'s diverse work portfolio includes many top-level, high-profile projects scattered throughout eastern Pennsylvania. Whether it's renovating the exhaust systems of welded concession stands at Lincoln Financial Field (Philadelphia), retrofitting HVAC systems for the Pennsylvania Convention Center (all one million square feet of it) during the annual Auto and Flower Shows, or installing new HVAC systems for high-end retail stores and restaurants, ECSI 360 can fulfill your facility's mechanical construction needs.
The following is a selection of completed and ongoing projects located in northeast Pennsylvania, southern New Jersey, Delaware, and northern Maryland. Our clients' industries and verticals include: schools, health-care facilities, government installations, retail stores, multi-family apartment complexes, and industrial plants/facilities.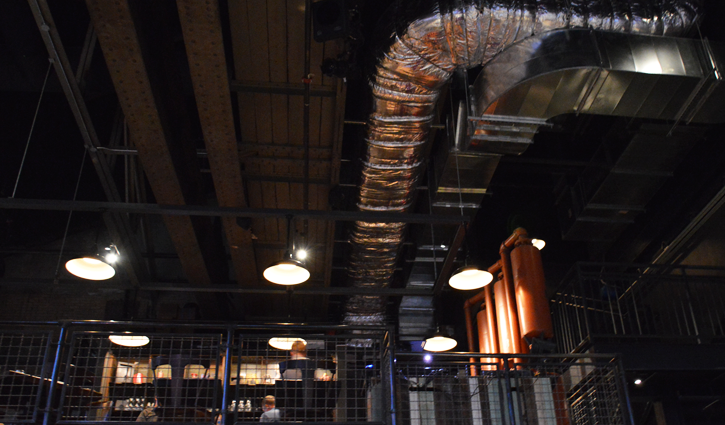 Fringe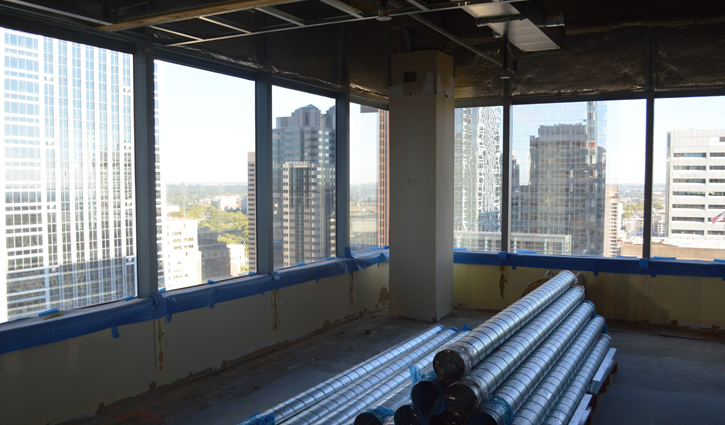 Liberty One
Philadelphia VA Medical Center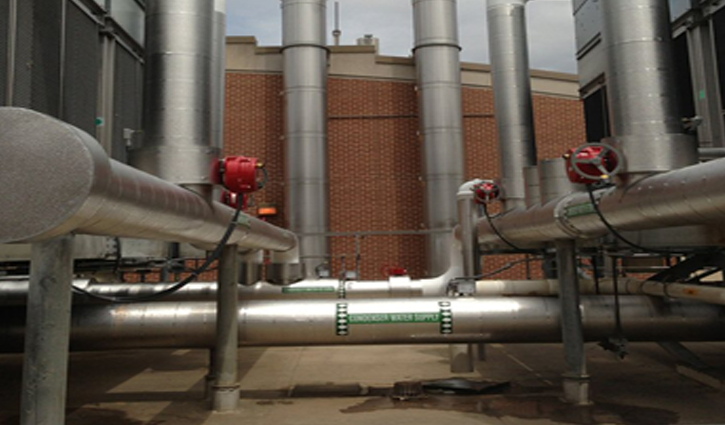 PA Convention Center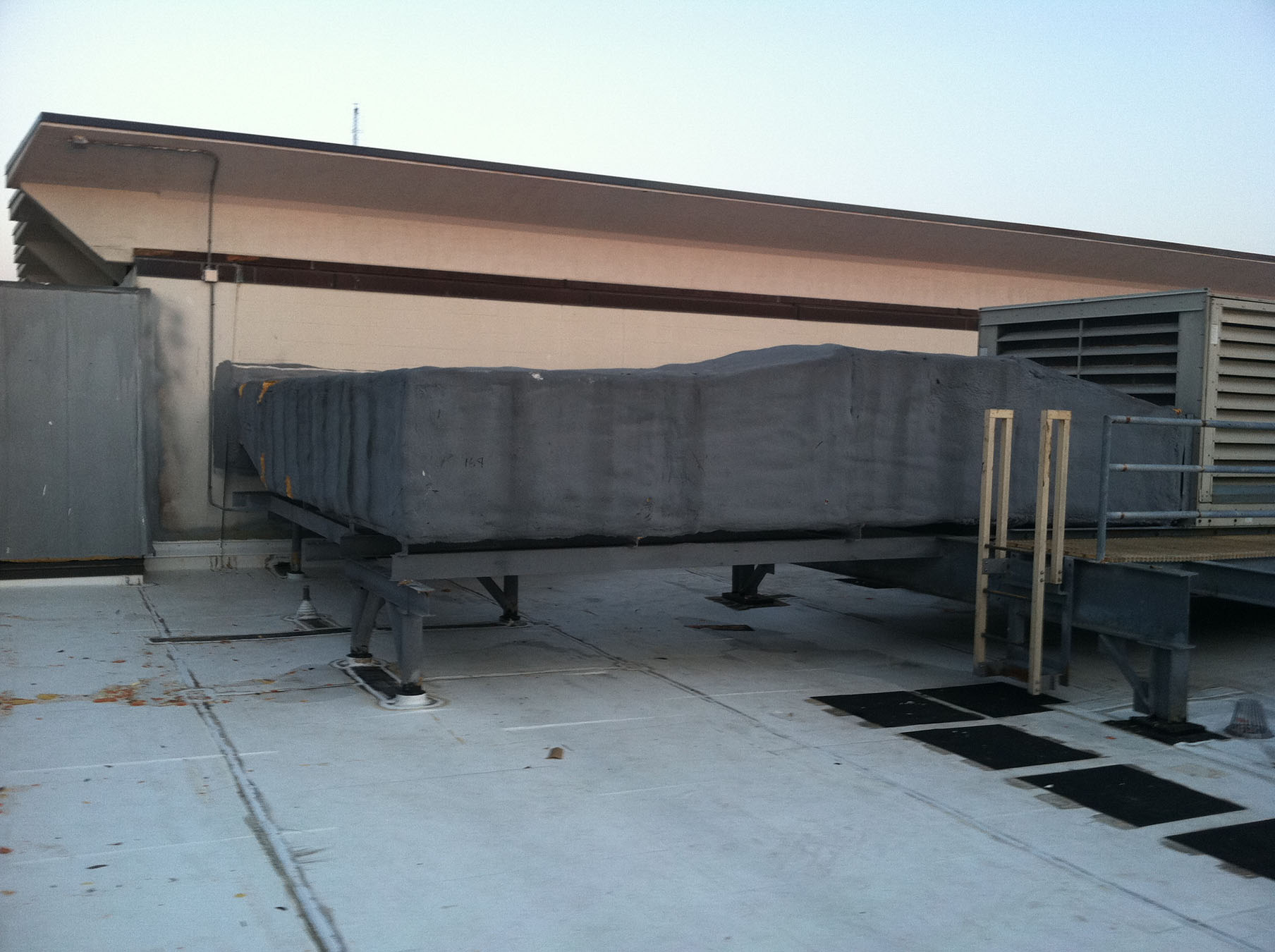 U.S. Coast Guard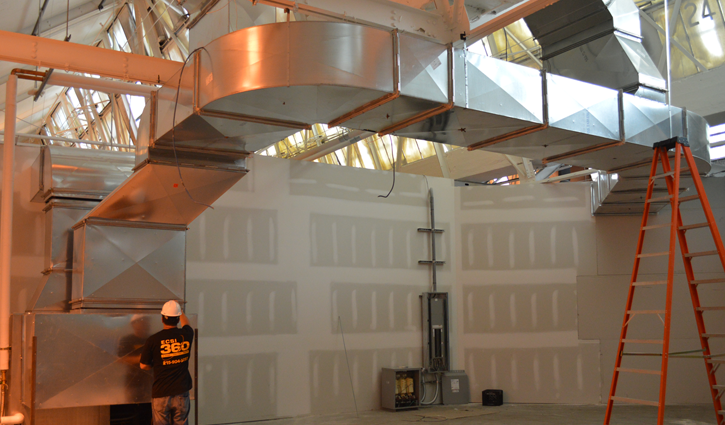 Resources for Human Development (RHD)
Fringe

An admirer of Philadelphia's reputation for "revolutionary" history and riveting sports teams, Environmental Construction Services is proud to be associated with the city's bounty of fabulous restaurants. Our company continues to provide HVAC and kitchen exhaust systems for some of the highest-profile restaurants in Center City. We completed all project work for La Peg, the new FringeArts contemporary brasserie, in early September 2014. Restaurant owners select ECSI 360 and its highly skilled tradespeople to handle their most challenging time schedules, welding requirements, and visible/exposed stainless-steel exhaust systems. Our use of 3D building technology is why we can meet restaurant clients' accelerated schedules, thus eliminating costly change orders, time-wasting layout errors, and other project delays.

Liberty One

Environmental Construction Services is assisting one of Philadelphia's largest and most prestigious law firms, Cozen O'Connor, with its pending May 2015 relocation. Cozen O'Connor's Center City practice is vacating the historic Philadelphia Stock Exchange to relocate into One Liberty Place's expansive office building and complex. The project entails retrofitting HVAC systems for eight floors of Philadelphia's second-tallest building within an accelerated six-month schedule. ECSI 360's highly skilled union workforce is preinstalling all ductwork hanging material while concurrently implementing 3D design technology to create the layout for all eight floors.

Philadelphia VA Medical Center

The Philadelphia VA Medical Center awarded ECSI 360 a $3 million mechanical contract to replace all facility piping, medical gas, sheet metal, plumbing, and control systems. This large-scale project involves retrofitting of an active, busy hospital's blood lab, air-handling units, chillers and boilers over a two-year period. ECSI 360 has been using integrated 3D project-delivery systems to virtually eliminate construction errors as well as change orders. This project is still ongoing—we anticipate completion in the winter of 2014.

PA Convention Center

Our mechanical contracting subsidiary, Element Mechanical, replaced three cooling towers (totaling 6,000 tons) during one of the one million square foot, Pennsylvania Convention Center's busiest seasons. When we say busy, we mean that the project elapsed during the annual LIGHTFAIR International (lighting trade show), International Auto, and Flower Shows over a six-month span. The project's scope included demolition, electrical work, piping, sheet metal, building automation, and engineering (structural, mechanical, and electrical). Our challenge was to meet the Convention Center's requirements of keeping at least two cooling towers operable during the entire retrofit process.

U.S. Coast Guard

ECSI 360's Element Mechanical subsidiary replaced two air-handling units and related sheet metal ductwork for the U.S. Coast Guard's Training Center (the fifth-largest base in the Coast Guard) within a one-month period in 2012. Over 48 pieces of 100"x90" double-wall/stainless-steel cladded sheet metal ducts and fittings were manifolded into 14 spool pieces that were subsequently craned into place over two weekends (i.e., four days). The staff at Element Mechanical devised a unique support system for the ductwork, ensuring a safer installation without causing damage to the fragile cladding.

Resources for Human Development (RHD)

Both for-profit and non-profit entities turn to ECSI 360 when a mechanical project requires complete renovation. In this case, the Resources for Human Development organization (RHD) has entrusted us with the entire renovation of all HVAC systems at their headquarters in Philadelphia. Knowing how challenging this would be, we are coordinating the project by using 3D CAD software and Building Information Modeling (BIM) to preinstall all duct hangers within the building. Our attention to detail has resulted in zero misunderstandings or disputes among the multitude of piping, plumbing, electrical, and sheet metal professionals working on the project. This HVAC renovation is still ongoing—we anticipate completion in the fall of 2014.