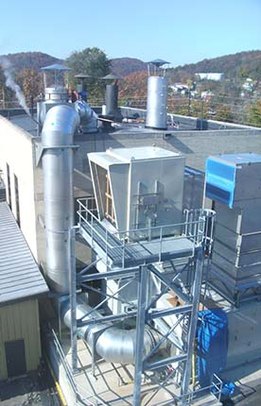 ECSI 360's core business is the design, construction, and maintenance of air distribution systems. As one of Philadelphia's leading sheet metal contractors, no project is too complex for us to handle. Our CEO, Mike Brown (link to Mike Brown's bio), has been a dedicated board member of the Sheet Metal and Air Conditioning Contractors' National Association (SMACNA) since 2012. Some of the products our firm can help you specify, design, fabricate, install, and maintain include:
Sheet Metal Duct-work (Round, Rectangular and Flat Oval)
High Temperature Stacks, Breechings, and Grease Ducts
FRP and PCD Ducts and Fittings
Acoustical Enclosures and Duct Silencers
PVC Coated Underground Ductwork
Vehicle Exhaust Systems
Dust Collectors and Industrial Filters
Additionally, we provide testing, balancing, and airflow optimization through our patent-pending technology, ventilation recommendations, and (total system) air distribution commissioning. ECSI 360 will ensure that all duct-work and equipment on the air side of your HVAC system maintain the correct amount of static pressure and are leak-free.