Junior CAD Technician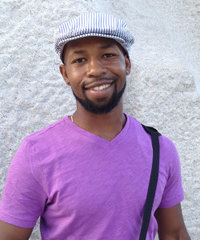 Phillip (Phil) Hunter is a Junior CAD Technician and Apprentice 3 at ECSI 360. In September 2013, Phil started his Local 19 Sheet Metal Workers Apprenticeship (a four-year program) and is expected to graduate in 2017. He has worked on various projects at ECSI 360 in the CAD Department and as a field tradesperson. Phillip exemplifies ECSI 360's commitment to innovation and quality by combining his four-year college education with a four-year apprenticeship in the HVAC trade.  Upon his second graduation, he will become one of the most qualified Building Information and 3D CAD specialists in the region.
Phil is a Philadelphia resident and attended Howard University, obtaining a Bachelor of Fine Arts degree in Graphic Design. Phil interned for six months at ABC News and then became a graphic designer at Global Design Interactive for a year. Phil also worked for Anheuser Busch Budweiser, with responsibilities including design, marketing and promotions, and advertising.  Phil went on to work at Yellow Pages, where he excelled in layout and design.